Zurück in die Zukunft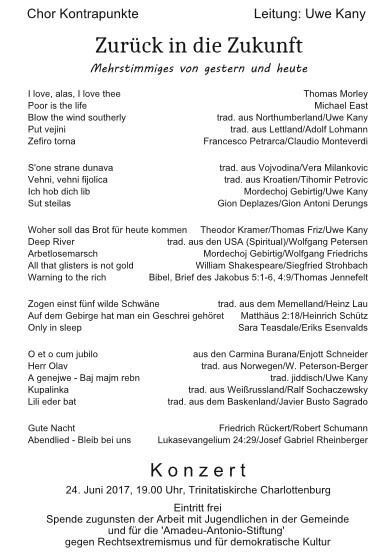 Zurück in die Zukunft
heißt unser Programm und meint damit die Besinnung auf Themen, die schon in der Vergangenheit eine Rolle gespielt haben und auch unsere Zukunft prägen werden: Gerechtigkeit, Friede und Bewahrung der Natur. Sie haben eine lange Tradition und sind deshalb vielfältig im Liederschatz der Völker enthalten.
Die Forderung nach Gerechtigkeit ist eine der zentralen Forderungen in der Bibel. Im Jakobusbrief gibt es ein Kapitel "Gericht über die Reichen". In der Übersetzung von Luther heißt es: "Reichtum erzeugt Fäulnis, euer Gold und Silber ist verrostet". Thomas Jennefelt hat den Text "Warning to the rich" eindrucksvoll (und stellenweise durchaus bedrohlich) vertont.
Im jiddischen "Arbetlosemarsch" heißt es treffend "gearbeitet schwer, für ein Häufchen Verschwender". Ziel ist das neue freie Land, wie es der jüdisch-polnische Dichter und Komponist Mordechoj Gebirtig, der 1942 im Ghetto Krakau umkam, ausgedrückt hat.
Solche Sehnsüchte werden auch in Spirituals wiedergegeben. Ein tiefer Fluss muss überquert werden, um jenseits des Jordan zum verheißenen Land zu gelangen ("Deep River").
Nicht auf Äußerlichkeiten achten, dafür gibt Shakespeare ein Lehrbeispiel in seinem Drama "Der Kaufmann von Venedig" (1596). "Nicht alles, was glänzt, ist Gold." muss der Prinz erfahren, der glaubt, mit der Wahl einer goldscheinenden Schatulle die Verehrte gewinnen zu können. Aber der Glanz bricht zusammen, was alle, die sich vom Äußeren blenden lassen, früher oder später erfahren werden. Siegfried Strohbach hat sieben Aphorismen aus Shakespeares Dramen vertont, darunter diese Zeilen ("All that glisters is not gold").
Die Natur wird oft besungen, vielfach als Metapher für Liebe. "Lili eder bat – Eine schöne Blume" ist ein Lied aus dem Baskenland, das ein sehr schönes Stimmungsbild von Liebe, eingebettet in blühende Natur, wiedergibt.
Die ältesten und innigsten Wünsche sind zu finden, wenn es um Abschiednehmen geht oder wenn die Nacht bevorsteht. Von der Bibel bis zu den Dichtern unserer Zeit gibt es Texte und Sprüche zu diesen Anlässen. Mit einem Gedicht von Friedrich Rückert ("Gute Nacht", Komponist Robert Schumann) und einem Segensspruch aus der Bibel ("Abendlied – Bleib bei uns", Komponist Josef G. Rheinberger) beschließen wir unser Konzert.